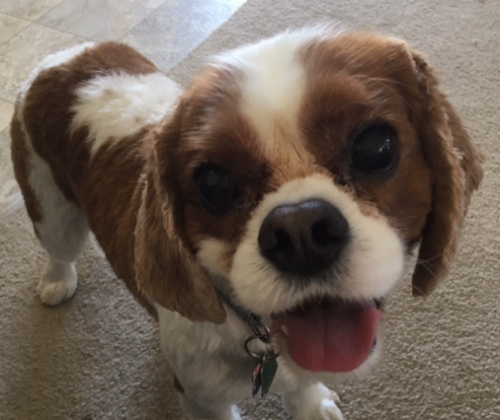 ​Tom, Kim and Newman Linkous​
To my Friends at Concord Pet:
I want to thank Concord Pet and the awesome manager at my local store in Milford, Kit Watson.
I have a King Charles Spaniel (Newman) who developed colitis and we weren't sure why.
Normally happy Newman was lethargic and had to go out 2-3 times a night to relieve himself.
He had several accidents inside which was highly unusual…he simply could not control himself.
We were feeding Newman a "nationally known brand of food" so we decided a change was needed.
I stopped in the Milford Concord Pet store and had the fortune of speaking with Kit. I told her what was happening, and she suggested I switch Newman's food to a brand that they carried. This mixed with pumpkin was doing the trick for my guy, but we weren't used to paying THAT much for food!
Enter ELM. I went into the store to buy the weekly food, and Kit mentioned that Concord Pet was introducing their own house branded food, ELM. Of course, I was skeptical switching foods again…seeing as though we just had every carpet in the house steam cleaned, HA! Kit grabbed a bag of what we were currently using and compared the ingredient list to ELM…Almost identical, and the ELM was several $ less expensive.
Newman has been loving life and is happy. His favorite ELM is Salmon, btw. We are happy that we are saving $ with no consequence to Newman's health…when I think about it, the only person who might not be happy with our change is the carpet cleaning guy!
Thanks again,
Tom, Kim and Newman Linkous
Belinda Porter - Elkton, MD
Concord Pet is amazing! They are willing to help even when they should be closed on a day like today. Thank you doesn't even begin to express the gratitude I feel in my heart for the Elkton store! You may have literally saved my dogs life by being there when you didn't have to be. I didn't get the guy's name but I think he is the owner or store manager, I'm eternally grateful!
Patti Castoria
I love the Middletown store. They are so helpful with pet advice!
Jill Archibald - Maple Shade, NJ
I can not say enough good things about the Concord store in Mount Laurel. The staff is ALWAYS so helpful. My baby girl was recently diagnosed with Diabetes and a friend referred me to Concord Pet food and Supplies. I am so happy she did. The first time I went in I was greeted by Nina and she helped me pick out the best kind of dog food for my baby girl that would help regulate her Blood sugar. I want to say a big Thank you to Nina and the rest of the staff at the Concord store in Mount Laurel.
Paschal Prettyman
Friendly & helpful staff. Love to shop at Concord Pet!