Product Info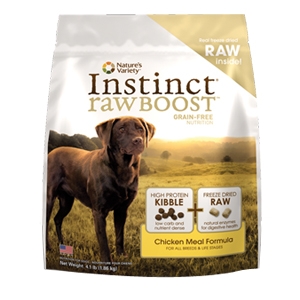 This product is currently 20% off the regular price!
Discount valid on 23.5 lb. bag. Assorted flavors to choose from!
Offer valid through 08-31-2014. Some restrictions may apply.
Manufacturer: Nature's Variety
Instinct® Raw Boost™ is the first ever grain-free kibble with freeze dried raw in the same bag. It's never been more convenient to nourish your dog with the nutrition of raw. The grain-free kibble provides low carb, high protein nutrition along with freeze dried raw pieces to give your dog a bite-sized boost of healthy raw food.
Please contact us for current pricing and availability.