Product Info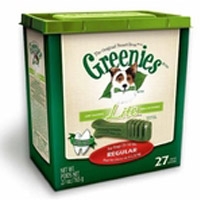 This product is currently $27.99!
27 oz. For dogs 5-15 lbs.
Offer valid through 09-30-2014. Some restrictions may apply.
SKU: 4286304596
Manufacturer: Greenies
Chewing is a natural habit that dogs need to execute for optimal dog health. The chewing action of these dog treats strengthens their jaws and teeth; the chewing agent acts as an abrasive and removes tartar and plaque build-up on the teeth and along the gum line. That's why scientifically designed Greenies are perfect for your dog - they're delicious and beneficial to his health! 27 oz. tub.
Please contact us for current pricing and availability.