​Kids, cats and dogs seem to go seamlessly together, but there's many things to consider before making this life-altering decision. This triple "W" concept is also somewhat intermingled when it comes to buckling down and making this important choice and some prospective pet owners may not have all the facts. 
WHO: For example, the term "who" usually means you and your family or it might refer to who you'll actually be getting a pet from … will it be a breeder, shelter or rescue organization? It's pretty obvious to say that as a responsible, prospective pet owner, animal shoppers should always begin looking at adoption first, rather than acquiring a pet from a breeder. 
WHY: You may ask other than some obvious reasons. Let's put it this way, if you're looking for a specific breed of dog​​ for example, many rescue organizations specialize in certain types of canines. Often these groups allow prospective parents to put out an APB for that specific type of dog you're after, including gender, age and many other factors. 
When it comes to pound puppies, many people aren't aware that purebred dogs found in shelters account for 25% of their overall pet population​. In this respect, it seems silly to pay hundreds or even thousands of dollars if you're looking for a purebred pooch from a breeder. Instead, you can save a life, give a dog a second chance at life, and reap other rewards from this process. 
WHAT: Exactly is meant by "other rewards?" Most shelters and rescue groups institute a number of different crucial steps during the adoption process that breeders often ignore or don't offer to their clients. This may include the necessity for:
● An overall wellness check and screenings for potential future health problems
● A full array of puppy/kitten shots and vaccines before or included with adoption costs
● The insertion of a microchip for identification purposes if they are lost or stolen

WHAT, What? The "what" category still leaves us with another question, what kind of pet should we get for our kids? Again, this is dependent upon a variety of different factors, the age of your child(ren), where you live, be it an apartment or house. Should you get a fish or a fluffy kitten? A rodent or a rottweiler? Research, some homework and common sense are key to this decision.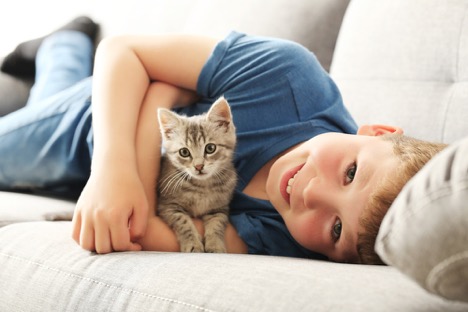 WHY 2 K: Why, to keep them healthy and happier. Some obvious reasons that parents want their children to appreciate pet ownership is to teach them valuable lessons about the circle of life, the responsibility of caring for another life and the daily chores that go along with their care. But sometimes parents don't know some of the other benefits of why kids should come with pets in tow that will help to keep them healthy and happy.
Research has shown​​ that children exposed to animals early in their life (the sooner the better) are less likely to develop allergies, respiratory issues and skin conditions like eczema. Later in a kid's life, this important bond with an animal can also help them with relationship issues, depression, even assist with problems like bullying when kids feel like they have no one else to talk with except their best, four-legged friend. As parents we always want what's best for our kids and often that includes having a pet in their life. 
Article and photos submitted by Emily Ridgewell